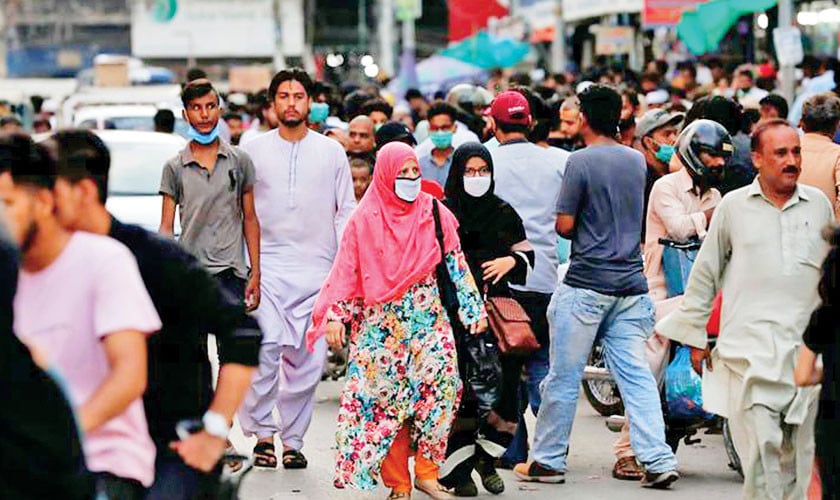 The coronavirus pandemic has transformed our lives. The lockdowns have forced us to change the way we socialize, shop and work. But as vaccination rates rise, some parts of the world are opening up.
A question that often comes to mind is "when will life get back to normal?" No one can really give a sure answer.
However, it won't be the first time that a pandemic has changed the world. Historically, crises have revolutionized societies by fueling technological advances and initiating social change. For example, in the 14th century, the Black Death wiped out a third of the British population. As there were fewer workers left, new technological advances were made to use less labor of workers such as the printing press.
Likewise, around us we see a gradual change since the pandemic hit us last year. As local economies faltered, health systems were strained, people continually lost loved ones unexpectedly, we were able to survive and move forward. We have found new ways to continue such as remote working ie working from home.
While the work-from-home model is not new, it instantly gained popularity. "With the routine of working from home, I felt like I could do extra work because I cut the commute time. There was no travel fatigue, so I could write and work more than I could during the old routines, "explains Nisma Chauhan, a journalist based in Karachi. "Before confinement, I didn't really have time to sit down and think about what I'm doing. We usually met a lot of people, even useless people, just to socialize. Now there is a semblance, less chaos and I feel like I made a better work-life balance. I could take the time to train, meditate, and do more outside of work. Plus, I could take a real lunch break, which I couldn't really do at the office. And this is something that I would like to keep in my "new normal".
"From an administrative point of view, the good thing was that we had the opportunity to restructure and analyze things within our organization and to improve it," reveals Taha Tahir, Country Director of Special Olympics Pakistan. "As we were meeting virtually, there were more national meetings and we were able to coordinate much better. We were also able to virtually involve athletes, families and coaches. We have found a number of innovative ways to operate effectively.
While this home office setup has its advantages, many have struggled to find productivity, given the nature of their work. Zainab Sheikh is a 27-year-old working woman who recently returned to her post after working from home last year. "I felt we were really relaxed in our routines during the blockages and we were lazy over time. When you go to the office there is a kind of freedom that goes with it. With the lockdown, however, you start to feel cramped at home. There is frustration and more fighting because you can't have the space you used to anymore. And given our desi society, privacy is a foreign concept and you see that it is frequently violated, "Zainab laments.
While many offices could operate efficiently while operating from home, some absolutely required a physical presence. "The nature of my job requires us to be physically present as we take care of the extracurricular activities for special children," Taha emphasizes. "Containment has impacted us in this regard. While we were running online courses and campaigns, but it's hard to manage. However, we have introduced Special Olympics programs such as "Fit 5" and "School of Strength" to engage our community. Despite the internet and electricity problems in Pakistan, teachers and coaches were able to stay connected through WhatsApp and Facebook. However, Taha adds that the physical activity aspect suffered. "It is difficult to virtually supervise children with special needs. We continue to partner with like-minded organizations and reach out to people living in underserved areas. Also, when it comes to children with special needs, they need an outlet like sports and the arts. Otherwise, it can be very difficult for parents to deal with them.
Pakistan was among the first countries in the world to institute widespread school closures in the wake of Covid-19. And while school closures have been effective in supporting social distancing efforts, there have been serious consequences for schooling and learning.
"During the first confinements, it was really difficult to manage since everything was closed. The kids were at home, there was no interaction and no kind of entertainment, which caused a lot of frustration, "says Marzia, a housewife and mother of two young children. "While we have learned new ways of teaching children through online classes, there have been a few challenges that have come with it. There were times when technical issues made it frustrating, and since my kids are young – 9 and 6 – they would have a hard time understanding the content. It is difficult to teach children at home and they do not have the same learning environment as at school. However, while I do care about the safety of my children, I like the idea that children attend school every alternate day or at reduced hours. That way it doesn't place a lot of burden on them and they might learn better in school.
These problems have not only persisted in the young age groups, but have also been seen in higher education. Studies have shown the impact on the psychological well-being of groups most at risk, including women, children, students and health workers, who are more likely to develop post-traumatic stress disorder. , anxiety, depression and other symptoms of distress. .
"Juggling my studies and confinement was really stressful. We were already very frustrated and the constant stress of the mounting cases only deteriorated my mental health. Online courses and online exams were really hard to take with so many distractions at home. Few of the teachers were able to use it properly and neither were some of the students. The stress of my studies and the decline of my career forced me to take two semesters off to rest my mind, "said Zunaira Haider, a final year business student. "I thought about everything I took for granted, all the hangouts I said no to and thinking about it made me feel down. I kept wondering if we would ever get back to normal? am generally very sensitive to things, I had a minor form of OCD but that flared up after the pandemic hit. I was going to college in my van. It's hard to imagine now that I would sit freely in the vehicle, that I would be able to embrace my friends and family without fear of getting infected or infecting someone else.
The deadlocks have also forced people to rethink their priorities and really focus on the things that are good for them. "I think people are now practicing good hygiene as they should. For example, simple hand washing is now so important that many have taken it for granted. I'm more of an introvert, so I was happy to avoid going to gatherings when I didn't feel like it. And I don't mind wearing a face mask, it makes it easier for me since I don't have to wear makeup. Other than that, I'm happy to have spent this time with my family despite the fights we may have had during this period. I walked away from a lot of friends, but I also found the real ones among them, "Zunaira adds.
It's tempting to wonder when exactly the Covid-19 pandemic will end once and for all and when things will return to normal. The point is, it probably won't revert to the old normalcy, but we can achieve a new kind of normalcy, even if this brave new world is fundamentally different. But the question is "are we ready to go home?" "
"I can't wait to get back to work," Nisma exclaims. "When you're in an office, especially if it's some sort of newsroom, productivity is much higher. You pump ideas and we are much more productive. Although some people think there is more productivity in the home, but I don't agree with that. While it really depends on the nature of your job, I like the idea of ​​flexible hours. For me, I could work four days at the office and two days at home, which would make a huge difference.
"I don't think I'll ever be able to ever become as carefree (read: carefree) as I used to be. I'm not ready to indulge in gatherings and weddings anytime soon (especially over 100 people). What if we were infected despite being vaccinated? My old routine didn't really allow me the "time for myself" that the new normal gave me. I want to be able to prioritize this. I feel more productive now and I don't think I'm ready to go back just yet, "Zunaira shares.
"I don't think we can fully embrace the old routine, it has to be merged with the new. I don't feel comfortable meeting new people, and I don't know if it's polite to ask if you've been vaccinated. I saw people meet, but it only increased my paranoia, especially after these people had Covid. I know this new normal very well and this routine suits me perfectly. I think the major difference comes from the number of SOPs and precautions to follow, "describes Zainab. "For me, the old normal means that you don't pay attention to your health. I don't mind going back to work because everyone has been vaccinated so I'm comfortable in this environment. Even though working from home is easier, there is no commute to work, but I would like to go and meet my colleagues.
"In my opinion, the good thing that happened was that there was a fixed time for offices and markets. I have the impression that these timings are better. Even for social gatherings like weddings, there is no longer a concept of barat coming at 11pm or even midnight. We really saved time as we knew everything would close at 10pm so we have to wrap it up before that. With this kind of delay, I have the impression that people are more productive, and I hope that we can continue with that, "concludes Marzia.